The Baby Farmers



At the turn of the century in Australia, single mothers were frowned upon. To have a child out of wedlock, a mother would have to bear the brunt of social disapproval and open ridicule.
But pregnancy was far less avoidable than it is today and abortion clinics were few and far between. Even then, those fortunate enough to arrange a termination ran enormously high risks of dying or at least winding up with permanent disabilities or some hideous infection.
As a result, the practice of "baby minding" became a profitable business. Few mothers wanted to adopt out their children, so they would place their babies in the care of a "child minder" who had a large nursery and staff. For a nominal weekly or monthly fee, the baby would be looked after and the parent(s) could visit their progeny on a regular basis.
Once the child had grown to a manageable age, he or she could be introduced as a niece or nephew of a deceased relative and grow up without the attached stigma of being labeled a bastard and the mother a whore.
The vast majority of the baby minding centers throughout Australia were run by honest women -- trained nursing sisters who employed other nurses who genuinely loved babies and gave the infants the attention and care of a natural mother.
But to an unscrupulous few it meant the opportunity to cash in on the misfortune of others. It gave them the circumstances to sell babies to childless couples desperate for a baby of their own, take the money and conceal the transaction from the natural mother.
It gave others the opportunity to take the mother's money for care, food and doctor's bills and let the child live in squalor and eventually die from starvation, neglect and disease.
To still others it became the opportunity to profit from murder. These killers of infants became known as "baby farmers."
On Oct. 11, 1892, drainer James Hanoney was digging in the soft earth to clear an underground drain in the backyard of a house in Macdonaldtown, a suburb of Sydney, when he found the cause for the blockage. Two bundles of foul-smelling clothing. Baby clothing. He removed the offending material and found the decomposing remains of two babies inside the clothing. He called the police immediately, and they uncovered the putrefying corpses of another five infants in various parts of the backyard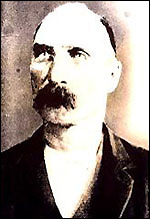 Through tenancy records, detectives traced the previous tenants of the cottage, 50-year-old John Makin and 47-year-old Sarah Makin, to a house in nearby Redfern where they uncovered the buried remains of more babies.
When police eventually tracked the Makins down to their new family home in nearby Chippendale, they found more dead babies buried in the backyard, bringing the grisly tally to 12.
The entire Makin family -- Sarah, John and their four daughters Florence, 17, Clarice, 16, Blanche, 14, and Daisy, 11 -- were placed under arrest. John and Sarah Makin were charged with murder.
The Makins' trial was held in the Sydney Supreme Court, and the courthouse was packed to overflowing each day with huge crowds waiting outside constantly being updated by runners on the progress in the courtroom. The defense told the court that the Makin family were professional child minders who looked after babies for a weekly fee until the mother came to take the child away, or until they found suitable parents for babies up for adoption.
In some cases the Makins arranged for a mother to visit her baby after it had been found a new home and loving parents, the defense said.
The prosecution told a different story. The Makin family had found it easier and much more profitable to murder the babies and keep on collecting a weekly contribution from the mother, who was prevented, through deception, from seeing the baby.
The first witness was Amber Murray who, as an 18-year-old, had given birth to an illegitimate son, Horace, in March 1892. Unable to care for the child by herself she offered him up for adoption in an advertisement in the Sydney Morning Herald, which said in part that she was seeking a kind and loving mother to adopt her baby boy. In the same ad she added that she was prepared to pay a weekly premium for the child's support.
She received a reply from a married couple in the working class suburb of Redfern in Sydney. They said that they would love to take the child on for a premium of 10 shillings per week.
Amber Murray called at the address the following day and met John and Sarah Makin and two of their daughters, all of whom fell in love with little Horace on the spot and couldn't wait to take him into their home and give him love and attention, especially since they claimed to have lost a little boy of their own.
Amber Murray didn't find it unusual that there were five or six other babies in the house because the Makins explained they were just minding them for friends for a short time. His mother left little Horace with the Makins after they had made a deal that she would pay the money each week on the proviso that she be able to visit little Horace from time to time. It was agreed.
It was the last time she ever saw her baby alive.
John Makin called in each week as regular as clockwork to collect the 10 shillings from Amber Murray, but every time she asked to see her boy she was put off with some excuse.
One day when John Makin was collecting the premium he told Amber that the Makins were moving from Redfern to Hurstville, well out in the western suburbs of Sydney, and he would forward her the address after they had settled in in about six weeks time. In the meantime he still called each week to collect the 10 shillings.
But the Makins didn't move to the western suburbs. Instead they took a house in nearby Macdonaldtown and moved in clandestinely in the dead of night. During the trial, daughter Clarice Makin would give damning evidence that when they moved from Redfern to Macdonaldtown, there was no sign of little Horace Murray.
Although Clarice didn't actually say the words, it was inferred that tiny Horace had already been murdered and John Makin still went on collecting his weekly premium.
The Makins did not stay long at Macdonaldtown and in August moved to Chippendale, where they were eventually arrested after drainer James Hanoney made his horrifying discovery on Oct. 11, 1892.
Amber Murray and three other grieving mothers identified clothing that had been pawned by Sarah Makin as belonging to their babies. Another couple testified that they delivered their illegitimate child to the Makins and gave them a considerable up-front payment, agreeing on 10 shillings a week until they could take the baby back after they had sorted their affairs out. Within days the baby had died, and the grieving parents gave the Makins two pounds toward the funeral, which they did not attend.
On the witness stand, the Makins' lies were shredded by the prosecution. Time and again when they denied any knowledge of keeping any babies, of murdering babies or taking weekly premiums from parents, they were caught up in their own webs of deceit until even their own children chose to go against them.
Sixteen-year-old Clarice Makin took the stand and testified against her parents by identifying clothing found on one of the dead babies as clothing she had seen in her mother's possession. Daisy Makin testified that only two baby girls accompanied them when they moved from Redfern to Macdonaldtown, inferring that little Horace Murray had been murdered and buried at Redfern.
The verdict was a forgone conclusion and the only penalty was death. As he sentenced John and Sarah Makin to death by hanging, Justice Stephen looked at the pair in the dock and in reference to baby Horace Murray, said;
"You took money from the mother of this child. You beguiled her with promises which you never meant to perform and which you never did perform having determined on the death of the child. You deceived her as to your address and you endeavoured to make it utterly fruitless that any search should be made and finally, in order to make detection impossible, as you thought, having bereft it of life, you buried this child in your yard as you would the carcase of a dog… No one who has heard the case but must believe that you were engaged in baby farming in its worst aspect. Three yards of houses in which you lived testify, with that ghastly evidence of these bodies, that you were carrying on this nefarious, this hellish business, of destroying the lives of these infants for the sake of gain."
The judge then passed the death sentence. John Makin held his wife up as she collapsed in the dock. The judge promised to pass on to the Executive Council of New South Wales the jury's recommendation for mercy on Sarah Makin.
After two appeals were dismissed, John Makin went gallantly to his death on the gallows. Sarah Makin won her reprieve and was sentenced to life imprisonment with hard labor. She was released in 1911 after serving 19 years behind bars and faded into obscurity.
None of the Makin children had a conviction recorded against them.
In September 1893, the new tenant of a house in the Melbourne suburb of Brunswick, decided to turn his backyard into a vegetable garden. As he was digging, to his horror, just below the surface of the unkempt backyard he unearthed the decomposing remains of a baby girl. Around the infant's neck was a tightened length of rope.
Police were immediately summoned to the house to examine the find. Neighbors also pointed out a nearby house where the same tenants had also lived, and when they dug around the garden there, they found another two decaying infants, both boys, buried just beneath the surface.
The previous tenants of both addresses, Rudolph and Frances. Knorr, had recently moved to Sydney and weren't hard to find. They had moved to Brisbane Street in the suburb of Surry Hills and were picked up by police within days of the discovery of the three tiny bodies and extradited to Melbourne to face the authorities.
An autopsy would reveal that the little girl had died of strangulation and the two boys had been suffocated. The Knorrs had a lot of questions to answer.
Police learned that Frances Knorr was born Minnie Thwaites in Chelsea, London, of a highly respected, God-fearing family. An unruly child and a lustful teenager of many conquests, she was sent from the family home to do her best in Australia and arrived in Sydney at age 19 in 1887.
She changed her name to Frances and fell in love with and married Rudolph Knorr, a German waiter whom she met while working as a domestic servant. Rudolph was well known to police in both Melbourne and Sydney as a petty criminal.
The Knorrs had a daughter named Gladys and after a series of misadventures, in which Rudolph did 18 months in Pentridge for fraud and Frances had an affair with an Edward Thompson and even lived with him for a time until he cast her aside, they reunited and turned to the new industry of "child minding."
It wasn't hard to do. Any woman with a child or children of her own who could get away with claiming to be a nurse could take babies in on a long-term, full-time basis. The usual deal was that the mother would pay an initial down payment of between five and 20 pounds and then pay a smaller monthly payment. In return her baby would be cared for and the mother would have access to her baby at prearranged visiting times.
The trouble with such loose arrangements was that often the mother would turn up to find that the child minder had taken her down payment and gone missing, presumably having sold the child, and numerous others, to childless couples for an extortionate sum and set up business again in another suburb or state.
The child minding industry became notorious. In Victoria in 1893 there were more than 60 inquests into babies that had been found dead or had died through neglect. More than 20 of these cases were treated as murder, but the perpetrators were usually long gone and no one was charged with a capital offense. Many more infants had gone missing without trace, presumed sold.
Frances Knorr was known at numerous addresses throughout Melbourne during her child minding career and didn't stay in one place too long. There were many mothers who wanted to have a word with her about her missing baby but were too frightened to report it to the police for fear of being exposed as a single mother. And it now seemed highly likely that the babies that Frances Knorr couldn't farm out or sell had been murdered.
As they arrived to arrest her, Sydney police found Frances Knorr in bed about to give birth to her second child. After it was born in custody, the Knorrs were taken under armed escort aboard the steamer Burrumbeet to Melbourne.
The inquest into the death of one of the baby boys found in the backyard in Brunswick, Isaac Marks, was held in Melbourne Morgue in October 1893. Among the 33 witnesses called was a 13-year-old nursemaid who had worked for Frances Knorr on and off for several years. Her evidence was damning. She recalled Frances Knorr borrowing a spade from a neighbour and then complaining that the front garden was too rocky to dig in and that she would have to dig in the back garden instead.
The doctor who examined the deceased infant said that a tape that had been drawn around his neck was the width of a sovereign coin, thus limiting the breathing capacity and causing the baby to suffocate.
The inquest heard evidence that Frances Knorr had so many dealings with unwed mothers who were reluctant to come forward, swapping babies and farming babies out to other child-minding centers at reduced rates, that it was almost impossible to keep track of what was going on. She had even pretended that her own baby, Gladys, belonged to another mother and that she was minding the girl for her.
After the inquest was held into the death of each of the three tiny bodies found in her backyard, Frances Knorr was charged with three counts of murder. But even in the face of indisputable evidence, she steadfastly denied murdering the babies or having anything to do with burying them.
At her trial the prosecution was swift to play its trump card and produce a letter that Frances Knorr had written from her cell in Old Melbourne Jail to Edward Thompson, the lover who had cast her aside, asking him to fabricate certain evidence on her behalf. The letter was given to police by Thompson's mother.
The letter was also a crude attempt to incriminate Thompson and have authorities believe that he was in some way responsible for the deaths and burials of the children. Frances Knorr wrote to Thompson urging him to pay a particular man and woman money to say that they had buried Knorr's and Thompson's child, which had died of consumption. She said in the letter that the woman would confirm this in court and clear both of them of any wrongdoing.
Thompson denied any knowledge of such involvement, and the police believed him. When this ploy failed, Frances Knorr dramatically changed her evidence in the middle of the trial. She admitted to burying the babies in the backyard, saying they had died of natural causes. This was a contradiction of the autopsies, which proved that they had definitely been murdered.
At the end of her five-day trial Frances Knorr was found guilty and sentenced to death by hanging. As she sat back in the dock sobbing at the sentence, she turned to Edward Thompson, who was sitting in the court and screamed: "God forgive you for your sins Ted. God help my poor mother. God help my poor babies."
In the days leading up to her hanging Frances Knorr embraced God and finally confessed to her sins of murder. "Placed as I am now within a few hours of my death, I express a strong desire that this statement be made public, with the hope that my fall will not only be a warning to others, but also act as a deterrent to those who are perhaps carrying on the same practice. I now desire to state that upon the two charges known in evidence as Number 1 and Number 2 babies, I confess to be guilty."
Although the man who was appointed to hang Frances Knorr, Thomas Jones, had a record of sending 15 men to their deaths on the gallows, he wasn't too keen about the prospect of hanging his first woman, who also happened to be the first woman to be hung in Victoria in 30 years, so he took to the bottle.
Two days before Frances Knorr's execution date, Jones committed suicide by cutting his own throat while in a drunken stupor.
But the hanging was scheduled to go ahead with a new hangman despite the desperate pleas of hundreds of Melbourne citizens for a reprieve on the grounds that it was inhuman to hang a woman and mother.
On the Sunday night on the eve of her hanging -- at 10 a.m. the following morning on Jan.15, 1894 -- a crowd of 200 protesters gathered outside Old Melbourne Jail and sang hymns through the night and petitioned for a last-minute reprieve. But the government stood its ground.
As the execution party reached the scaffold to await the arrival of the condemned woman, they heard hymns being sung from her cell in a strong, yet plaintiff voice. Frances Knorr had been singing hymns since dawn and continued to do so as she walked the few paces from her cell to the scaffold unaided, was tied hands and feet and had the noose placed around her neck.
She only stopped singing in the last few seconds to say in an unbroken voice: "Yes. The Lord is with me. I do not fear what men may do to me, for I have peace, perfect peace."
Then Knorr, killer of defenseless babies entrusted into her care, dropped the two and a half meters to her instantaneous death.
After Knorr was hung, authorities assessed that, given the period of time that she was in the child minding business and the amount of women who clandestinely came forward later and told police that they had given her their babies, it is believed that she could have murdered as many as 13 infants.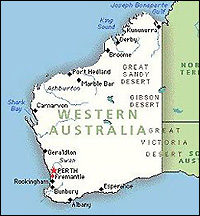 It was the illegitimate birth of a baby girl Ethel in 1906 to Elizabeth Booth at the House of Mercy, a refuge for unmarried mothers run by Catholic nuns at Highgate Hill in Perth, that ultimately led to the exposure of Alice Mitchell. Mitchell was a serial killer who took babies into her care and, once she had taken the mother's money, left the infants to wallow in squalor.
Eventually 37 babies left in her charge died, either due to Alice Mitchell's negligence or from outright murder.
The rules of the House of Mercy were strict, and three months to the day after Elizabeth Booth had given birth to the bouncing healthy little Ethel she was bid farewell by the kindly nuns and sent out into the world to fare for herself and her infant.
As she had no intention of adopting Ethel out and the father had fled, Elizabeth Booth had no alternative but to work to provide for them both. But seeing as she had little education and the only work she had ever really done was as a house servant to wealthy families -- and they would have no part of a mother and child on the payroll -- Elizabeth had no choice but to find alternative accommodation for her baby and try and visit her as often as her working hours would allow.
The baby lodgings that were recommended to her were just around the corner from the House of Mercy at 24 Edward Street, East Perth and were run by a friendly, plumpish, middle-aged nursing sister named Alice Mitchell who showed the new mother and her baby around some of the premises.
Feeling safe to leave her baby with Mitchell, Booth agreed on a price of five shillings a week, five shillings for vaccinations and an additional five shillings for every doctor's visit with "Dr. Officer," who examined Booth's baby on admission.
Three days later the mother called in to see her baby and was told that Dr. Officer had examined the infant and found her in excellent health. The accounts were settled, and Booth left for her new job as a housemaid content in the knowledge that her daughter was in the best possible hands and that she could drop in and see her whenever time allowed.
Less than month and a half later her baby was dead. The infant became another victim of what would become the most infamous case of baby farming in the country. If it hadn't been for Alice Mitchell's greed, and then Elizabeth Booth's determination to find out what had happened to her child, many more babies might have died.
When Booth fell behind in her payments, not for the baby's board but for the mysterious fees that were continually demanded for Dr. Officer, Alice Mitchell summoned the police to call in the debt.
The police constable, who was not sure what to do in such a civil matter, he called in his boss, Sergeant Patrick O'Halloran, who visited Alice Mitchell at her boardinghouse and demanded to be shown around.
What the sergeant saw appalled him. In his official report, he said of one baby, "The child was in an appalling condition. Pus was coming from its eyes, it was fly specked, extremely wasted and giving off an offensive odour".
Sergeant O'Halloran returned with a government medical officer who, also appalled at the filthy conditions, pronounced that the child in question was close to death. It was Booth's baby daughter.
Interviewed about her arrangement with Alice Mitchell, Booth said that she usually called in late at night after she had finished her work. Each time she was put off from seeing her child on the excuse that the baby was asleep and could not be disturbed. After weeks of being put off she finally demanded to see her child and was shocked at what she saw. When her once healthy and bubbling baby was brought to her she couldn't believe her eyes. The baby was covered in sores from head to foot and was a crying bag of bones. The infant died two days later.
Booth went to the police and told them that she suspected foul play. A full investigation into the child-minding practices of Alice Mitchell began. The discoveries would shock the nation and once and for all bring a close to uncontrolled child minding.
Since 1900 Alice Mitchell had run a number of baby lodging establishments in Perth and had moved from one address to the next as things got too hot for her. Adult boarders in her establishments told police of babies lying on the floor in their own excrement with piles of used, unwashed napkins riddled with maggots in the corner. The stench from the rooms was unbearable and flies lay their eggs in the weeping sores on the children's faces and bodies.
The babies were allowed to crawl out into the back yard where the fowls were kept and immerse themselves in the mud and eat the chicken droppings that littered the yard.
As the investigation progressed, it was revealed that, over the six years that she had been in business, 37 infants had died at the hands of Alice Mitchell yet not a word of it had reached police. Investigators had little doubt that the death toll was a lot higher, but no more records could be found among the squalor.
What amazed police the most was how 37 babies could have been buried by their grieving mothers without the authorities becoming aware of it. It was law that a coroner's certificate be issued before any burial could proceed. Yet not one such certificate had ever been issued in the case of the babies that had died in the care of Mitchell.
To the astonishment of police and Health Department officials it was discovered that the undertakers did not know such documentation was required. The four main Perth funeral directors all claimed that they were unaware that the coroner's certificates were required and had carried out 37 funerals, some at the government's expense, of babies in the care of Mitchell without the inkling of a suspicion that all may not be in order.
Dr. Officer, who was the only doctor to service the babies in Mitchell's charge, claimed that he had never noticed anything irregular about the conditions at Mitchell's establishments.
And a Miss Lenihan, the Council Health Department Inspector in charge of such establishments, whose job it was to do regular checkups on the babies, said that she heard about the odd death from time to time but said it wasn't anything worth reporting to her superiors.
In spite of the huge amount of evidence to the contrary, Miss Lenihan maintained that Mitchell's establishments were always found to be satisfactory.
On March 12, 1907, at a coroner's inquest, a three-man jury found that "the child Ethel Booth died from willful starvation and culpable negligence by Alice Mitchell. The coroner said that the case was "the most revolting ever dealt with. It is loathsome, disgusting, filthy and monstrous."
Alice Mitchell was arrested and charged with willful murder. During her trial it was revealed that there were many more people in high places who were negligent in their duties. The inspector of health, her superiors, the doctor, the undertakers and many more people in prominent positions were paraded before the court and sternly reprimanded.
But with no bodies, no evidence, no witnesses to actual murder and no one talking, the result was in the favor of Alice Mitchell, who escaped the charge of willful murder and was sentenced to five years with hard labor for the manslaughter of little Ethel Booth.
The case so appalled the nation that it was the catalyst for the tightening of the laws governing the regulation of baby minding clinics across Australia.